This week is crazy for Chef and I. We've made the decision to CLOSE the Restaurant to the public, so we can concentrate on organizing for a huge Off-Premise Catering Job. Even when we took over My Kitchen, it was still something we knew we would be doing.
Yes, we know we own a restaurant, yes we know you want to visit but we're here to stay. We love owning a Restaurant, we just love Catering more :). Please bear with us this next two weeks.
It has been difficult for the average Customer who doesn't understand what we do, and after numerous phone call inquiries, I've decided to post this. Chef and I have Catered the Unions Labor Day Parade for many many years. The date is even blocked out on our Calendar early in the year and I do not book any in-house Events.
This Event occurs on the streets of Manhattan during the day. We feed over 800 people as the parade kickoff occurs for their Union, Local 15.  It is not glamorous in the least. No fancy feathers, no fancy napkin folds, no signage etc. In fact, it's usually very very hot. So not many photos to post with hashtags #Catering hahaha.
Most of our experience and talents falls within the prep and organization prior to the actual event itself. My Kitchen facility is much smaller than we're accustomed to, so timing is everything: purchasing, storing (lots of storage) of products, slicing meats for sandwiches, making sandwiches (all freshly made in My Kitchen), labeling and packing.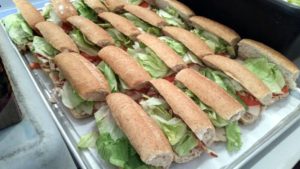 Then renting a truck to transport, set up tents, and be ready to distribute when client needs. Off-Premise Catering is fun for us. It's what we truly enjoy.
All of this, while I attempt to meet with Clients for In-house Catering Events and to work on proposals for other Off-Premise Jobs. Life is always exciting for Chef and I but we wouldn't trade it for anything.
So I ask for you to please bear with us
D