When I decided to purchase the restaurant and hired My Chef, I knew our lives would change tremendously. Coming off Catering for 18 years, the day to day of a restaurant would really take a toll on us. We had a conversation prior to committing, that Christmas Eve and Christmas Day we would close. It is OUR FAMILY TIME.
***
What's the point of building a business to support your family, if you can't build the memories with them.. My Chef and I took over the family Christmas Eve Dinner years ago. Our Guest list have dwindled over the years. Mom has since passed, Chef's Dad in in a nursing home, my brother-in-law goes to his wife's family. So we have the kids AND a grand-daughter… We've also included a couple friends over the years BECAUSE when you're a Chef, God forbid you ONLY cook for 5 O_o..
***


***
We had Antipasto waiting.. Well yeah, we're Italian (me, by osmosis), we must have antipasto.. We included several types cheeses – including chocolate and apricot.. The Baby loved the salami.. So yes, we were proud Grandma and Grandpa.. No better way to define a family than gauge with food.. HAHA!! I'm Trinidadian, it's the same concept..
Wine of Choice: Rose
Conversation was great.
***
Soon it was about time to embark on our FEAST!!
We truly tried to curb the quantity this year but somehow it yielded, *looks side eyes – anyone remember that story about Jesus and the seven fishes?*
***
1st FISH – Shrimp Cocktail
Decided this would be non-commital.. c'mon it's Shrimp Cocktail, you can eat hundreds of this and not get full when you're a party.. WELL NOT WHEN THEY'RE THE SIZE of a lobster!! Even our Son (who does Food Sales), said "dad, what did you get these?"


***
2nd FISH – Crab Cakes
Everyone loves the crab cakes he makes. YUM! over fresh cole slaw with yogurt.. Everyone was GUNG HO!! One cake per person, we can so do this..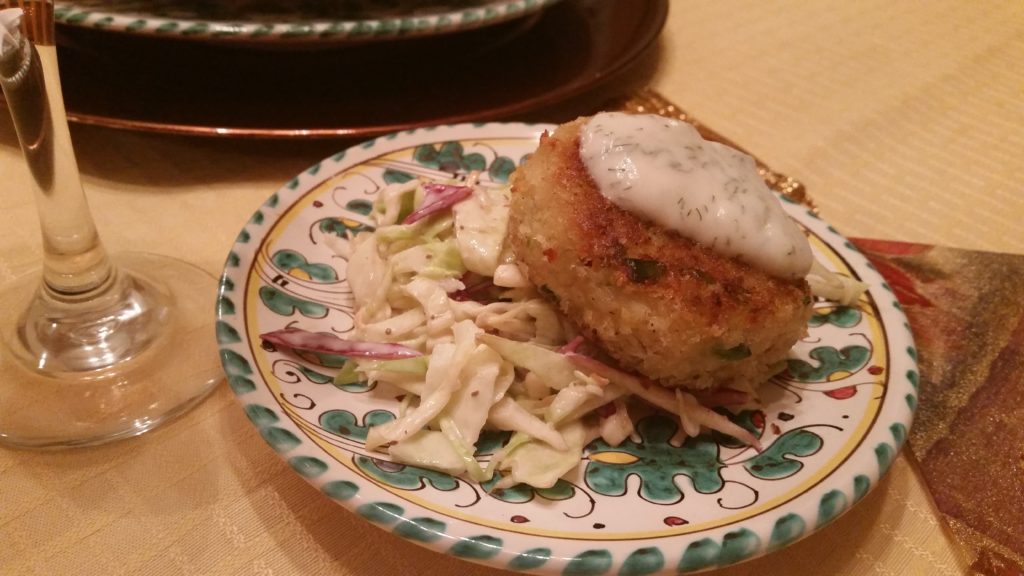 ***
3rd FISH – Coconut Shrimp
Do you see what we're doing?? smaller plates, bite sizes.. We're NEVER gonna get full.. So he places a Platter of Coconut Shrimp on the table, so instead of having 1 or 2, we all kept eating O_o and drinking.. LOL


***
WE TOOK A BREAK – such a bad idea!!
Decided to open presents at this point. Our Son goes to his in-laws on Christmas Day. It was fun watching the Baby and Chef Baby open up presents.. Grandkids really do change your life.
I should mention, we drank some more 😀
***
4th FISH – Lobster Wellington
By now, the protesting is beginning to fester.. "What do you mean, it's only the 4th Fish?" But we all dug in, Chef made it so interesting with a corn veloute..


***
Chef actually took longer to get off the table for the next course. Could it be that HE was tumbling also?? We could only hope. HAHAHA! Thankfully, he had to make pasta, so we had another LULL (again, when you're doing courses, it's a bad idea.
***
5th FISH – Linguini White Clam Sauce
I have to tell you, we were ready to throw in the towel and then Chef sauteed the garlic. I swear, we all perked up. I should've video taped it, would've been a wonderful commercial.
I swear we were full but yet who can resist a fresh pasta white clam sauce.. C'mon!!!!


***
6th FISH – Alaskan King Crab Legs
Got nothing!!! I threw in the towel. I watched as everyone ate.. LIKE WHERE THE HECK is the food going?? We laughed.. Then he negotiated wtih them.. "I will skip the 7th FISH, if we eat all the Crab Legs" I'm not sure what happened next..


***
7th FISH – Grilled Octopus
NO PHOTO!! I'm still in doubt that it was cooked.. I got busy with the baby and I saw everyone with Stuffed Artichoke on their plates, so i'm thinking they protested.. "This is bordering abuse – we can't eat anymore"
***
Chef and I wish you and your family a Very Merry Christmas.. Remember that some of the best presents are not found under the tree!! Enjoy your family.
Hugs
D