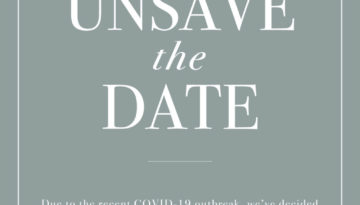 With so many Events in limbo, I thought I'd reach out and let you know where we stand.
It has been a crazy week in the event industry. It has been a difficult time for all my clients and Vendors as we all scramble to figure out how to handle these situations.
*
While Chef and I are keeping our distance and following the guidelines of the CDC and New York State, I wanted you to know that we are still working for you. I may be reached via phone or email and I am willing to jump on FaceTime to speak with you.
*
We are postponing events to a later date, as the Calendar moves forward. I am hoping this quickly passes for the sake of us all but our small business, along with many others, are taking a massive hit.
*
Free "
Unsave The Date
" Graphic, thanks to ThePapermintPress.com They also have a customizable template.
*
Even though we have not had Events, Chef and I are being proactive with keeping our beautiful space clean. Since we have no timeline, we leave it up to you to make that decision when you feel the time is right. We will be ready to begin service as soon as we get the go ahead.
*
*
WE ARE HERE FOR YOU!
*
*
Sincerely
Dhanny and Chef Joe