Your Event Space
Our Kitchen
Our indoor Banquet Hall seats 50+ guests.
Designed to give ample natural light through French doors with one wall of open bricks looking onto our patio.
The Banquet Hall is our main event space for weddings and other larger events.
Our Outdoor Patio is the perfect space for an intimate ceremony, cocktail party or garden tea party.
The patio may also be used as a reception space for hors d'oeuvres for evening events before moving inside for the formal reception.
Our indoor Restaurant Space seats 25-40 guests.
Our Restaurant Space is ideal for smaller, more intimate events like bridal showers, baby showers or private dinner parties.
Banquet seating for 50+ guests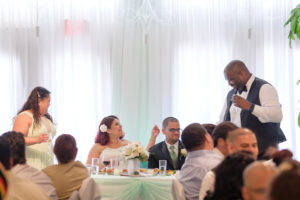 Drape front room to complete that banquet feel
Make the most of the space to have ample size dance floor.
Event setup in restaurant