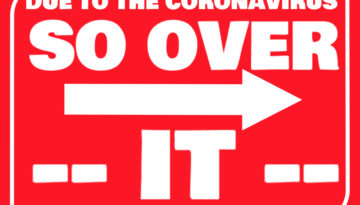 Well here we are – December 2020
Nine Months since the initial shutdown. I have to tell you, it has been one of the most unfathomable years we've faced as a Couple in Business together. However, on the other hand, it has been one of our Best Years as a Married Couple in Business together. For the first time, we were able to spend time with our kids (and now grandkids). We took road trips to clear our minds (who remembers our IGTV post on "never have I ever"). We actually cooked dinners at home more, instead of eating meals at the restaurant.
Mostly, it gave us a time to re-evaluate our lives. Where do we want to be after the world gets back to some normalcy.
WE STILL LOVE WHAT WE DO!
We don't want to stop but maybe it's time. Figuring how to walk away has been the biggest challenge. After all, I truly believe in what we've built.
.
Banning indoor dining in the five Boroughs of NYC again, can I just say it? is just utter Bull$hit. Meanwhile, Long Island and Westchester is at 50% indoor dining capacity, not even 25% which is where NYC was capped. It is a huge injustice to the Industry and our workers. Especially after spending so much time and money to come to code with what was being asked of us.
.
PLAYING DEVIL'S ADVOCATE
On the other hand, I understand the need to tighten the reigns, so to speak. Chef and I have dined out and dined in and I must tell you, that people (yes, you and you and you, regular joes) are truly not all following the rules. Not calling out the Family member but we've been careful with whom we get together with, only to have dinner with them one evening and see them engaging in conversations with neighbors at their table with no mask ("but we know him"). We've seen folks sitting and congregating at the bars "Cheers" style, engaging and kissing their fellow bar flies as they walk in – no masks at the bar while drinking.  So while we're not sure how we are testing negative and others are positive, I can see in our environment, how easily this virus could spread without a second thought given by people who have the basic human need to interact.
TRUST ME – I get it! I miss people too
.
Anyways, Chef and I are not sure we even want to deal with Take-Out again, as that died out the minute dining in opened up, so not looking to build food inventory again. However, wanted to say Thank you to the few who kept ordering take-out. We truly appreciated it.
That being said, I am working on some Personal Projects. Thanks again to everyone who dropped off clothes for our Drive. It was a huge success, the front of the Restaurant was packed with bags. The lady who picked up was so happy.
THIS WEEK – I'm doing a Pantry Drive. If you can, on Friday December 18th, drop off canned or dry items to My Kitchen. We will be making Individual Care Boxes to distribute just before Christmas. I will be posting and sending out separate email.
That's about it.
Stay Well. Be Safe. Keep Smiling. Be Nice  ~ Dhanny